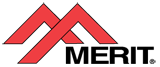 TEE-LETS AND DROP NIPPLES
The Merit® product line includes a variety of tee-lets and drop nipples for fire protection applications. Most Merit products are UL / ULC-listed, FM-approved and rated from 175 to 300 psi.​
​
Merit 300 Tee-Lets are manufactured from highly weldable steel which conforms to the chemical and physical requirements of ASTM A-53, Grades A or B, Type E
​
Merit Eliminator Adjustable Drop Nipples provide the user with the ability to adjust fire sprinkler assemblies (concealed, recessed, or pendent) to fit flush to the finished ceiling without having to cut a drop nipple or drain the system.
​